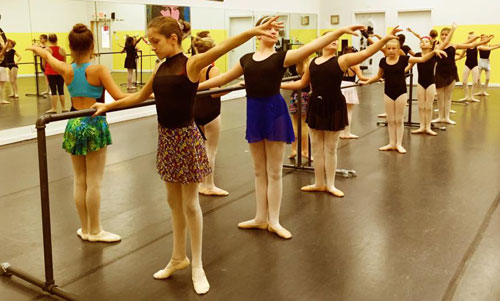 CREATIVE MOVEMENT
A tap/ballet combo class. This class introduces a structured environment while allowing children to recognize their own individuality and body mobility. Focus is on coordination and rhythm introduced in creative and imaginative ways. Keeping students entertained while learning beginning dance skills will help them to acquire a lifelong love for dance.
BALLET
Ballet is the "backbone" of all dance training. In ballet the student will learn grace, elegance, technique, discipline, flexibility, stamina, and endurance. We offer ballet for all ages and abilities.
PRE-POINTE
This class is dedicated to teaching pointe fundamentals to students of the appropriate age and technical ability. Because of the risk of injury, students must be physically ready. One complete dance year of pre-pointe and a pointe evaluation is required before advancement to pointe class. The pointe evaluation allows teachers and students the opportunity to see where the student needs work in order to prepare for pointe. The evaluation focuses on legs (straightness and strength), feet (flexibility, strength, alignment, and shape), ankles (strength and straightness), and overall body alignment.
POINTE
Dancing on pointe is the act of standing on the tips of the toes while performing steps from ballet. Also known as pointe work, it is performed using hard–toed and stiff-shanked pointe shoes. Dancing on pointe requires strength and skill, so prior permission from instructor is required before students begin taking pointe classes.
JAZZ
Jazz dance combines techniques of classical ballet and modern dance with the current forms of popular dance. Jazz dance can take on many different characteristics and styles, including Street Jazz, Percussive, Broadway, Contemporary and Lyrical. Jazz classes can be patterned in any of these styles or a combination of them. Emphasis is on the importance of energy, rhythmical accuracy, and style.
TAP
The rhythm and movement of tap, created by the metal taps on the heels and toes of a dancer's shoes, transforms the dancer into a percussive musician. Tap dance emphasizes the flow of movement by teaching the dancer to find rhythms and beats not only in music but also in their own bodies.
HIP HOP
This class teaches students the vocabulary and style of hip hop movement. Hip Hop is about personal style and expression. This high energy class can be taught to anyone with a passion to move, so no dance experience is required.
LYRICAL/CONTEMPORARY
Lyrical is a fusion of ballet and jazz, with expressive movement that tells a story. Students will learn lyrical technique along with how to express emotion through movement.
MUSICAL THEATRE
These upbeat classes teach Broadway-style choreography, show-stopping stage presence, and acting, with a focus on learning song-and-dance numbers from a variety of musical productions, past and present.